Sumo Robot is one of the most popular robotics events in the world, where two robots try to push each other out of a circular ring. The robot had a size limit of 20cmX20cm and weight limit of 3kg. The sumo ring is a round platform with diameter about 1.5m. The Singapore Robotic Games had been hosting Sumo Robot Game for many year with great success. From 2019, We are planning to introduce the Sumo Robot School Completion to allow students from primary school to secondary school to have the chance to experience the exciting game. Sumo robot is categorized in Remote Control and Autonomous events. This game will provide good training for participants in programming (Scratch Block/Arduino/C), sensors and motion, artificial Intelligence, and mechanical system. The participating students will have good exposure in the area of STEM and able to compete in overseas sumo robot events as well.
iNOVA Microsystems is working with SRG to provide a demo game in SRG2018 to allow potential interested participants to have hands-on experience on robot kit set and how to use and program the kit set. All are welcomed. The venue and time of the demo game is as below.
Time: 2018 Jan 24th, Wednesday, 2:00pm to 6:00pm
Venue: Annexe Hall 1, Science Centre, Singapore
For more information about the kit set, please visit http://www.inovamicro.com/isumobot.html.
In the mean time, visitors are also able to enjoy the excitement of the annual Singapore Robotic Game 2018 that is hosted in the Science Center at the above venue from 24th Jan to 25th Jan 2018. Below is the program schedule.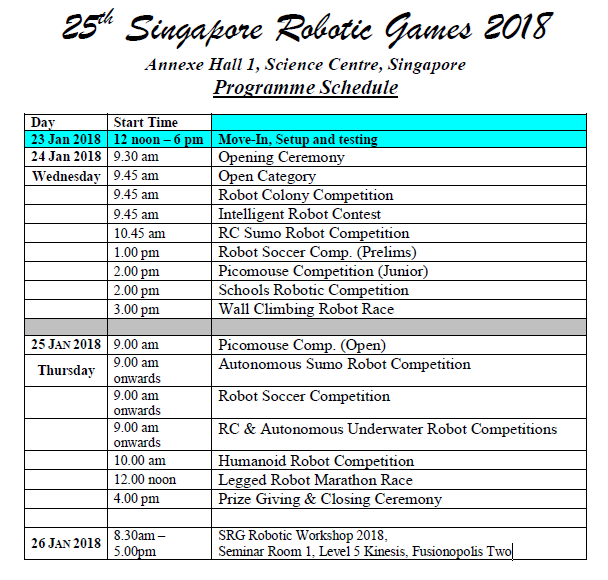 For more information about the Singapore Robotic Games, please visit http://guppy.mpe.nus.edu.sg/srg/
If you are interested in participating this game in SRG2019, please register below so that we can keep you updated about the latest information about the games.